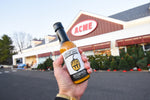 We're excited to announce that Sauce Bae is now available in select ACME and SAFEWAY stores throughout the Mid-Atlantic region of the United States. Our pineapple habanero hot sauce, infused with turmeric, is now available in 35 ACME locations and 82 Safeway locations in PA, NJ, DE, NY, CT, VA, MD, and DC.
We've been working hard to bring Sauce Bae to more retailers and are thrilled to be expanding our reach. Our mission is to provide customers with a healthy, all-natural hot sauce that's as delicious as it is good for you. We believe that our unique blend of ingredients sets us apart from the competition, and we can't wait for more people to discover the taste of Sauce Bae.
To celebrate our launch in ACME and Safeway stores, we're running special sales throughout the month. We want to encourage everyone to give Sauce Bae a try and experience the flavor for themselves. We're confident that once people taste our hot sauce, they'll become fans for life.
Thank you to all of our customers who have supported us throughout the years. We're committed to bringing you the best hot sauce on the market, and we can't wait to see where this new expansion takes us. Keep an eye out for Sauce Bae in your local ACME and Safeway stores, and don't forget to grab a bottle (or two) to add some flavor to your meals.