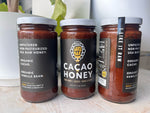 Introducing Our Cacao Raw Honey! Here at Sauce Bae, we're thrilled to introduce our latest culinary masterpiece – Cacao Honey. Crafted with care and a touch of pure indulgence, this delectable honey is the newest addition to our raw honey line, and it's already winning hearts (and taste buds).
What Makes Our Cacao Honey Special? Our Cacao Honey isn't your run-of-the-mill sweet treat. It's a tantalizing fusion of raw honey, organic cacao, and organic vanilla bean. Each ingredient is carefully sourced to ensure the highest quality, and it's this commitment to excellence that sets Cacao Honey apart.
Imagine the rich, velvety taste of premium cacao seamlessly blended with the natural sweetness of raw honey. Then, picture a hint of organic vanilla bean, adding a touch of sophistication to the flavor profile. Cacao Honey is truly a symphony of flavors that dance harmoniously on your palate.
One of the things that makes our Cacao Honey so special is that it's crafted with raw honey. This means it hasn't been heated or filtered, preserving its natural pollen and enzymes. It's the closest you can get to honey in its purest form.
Our organic cacao is sourced from the lush fields of Ecuador, renowned for producing some of the finest cacao in the world. And our organic vanilla bean hails all the way from Madagascar, known for its exquisite vanilla. It's a global journey of flavors that culminate in every jar of Cacao Honey.
How to Enjoy Cacao Honey? Cacao Honey is incredibly versatile. Enjoy it by the spoon, spread it over your morning pancakes and toast, or blend it into your coffee for a mocha-inspired pick-me-up. The possibilities are limited only by your culinary creativity.
Get Your Jar Today! Ready to experience the magic of Cacao Honey? Head over to our online store and add a jar to your cart. It's perfect for treating yourself or gifting to someone special. Get ready to embark on a sweet journey of flavor and indulge in the rich, velvety goodness of Cacao Honey, brought to you by Sauce Bae.
Stay tuned for more exciting updates from Sauce Bae as we continue to explore the world of culinary delights!