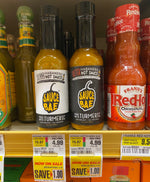 We are excited to announce that Sauce Bae hot sauce can be found in 112 ShopRites, 42 Price Rites, and 3 Fresh Grocer locations! We quietly announced back in June that Sauce Bae would be available at select ShopRite and Price Rite stores throughout the Tri-state area, but at that time we didn't have an exact store list. 
If you've been buying Sauce Bae directly from us online, or on Amazon, then we strongly recommend that you check out our locations map and find a store near you for some big savings! We are running a sale until the end of the year which can be seen in the picture above.
It has always been our goal to make Sauce Bae as affordable as possible, which is why we created discounted bundles in our online store. Launching in large chain retail now allows us to offer significantly more savings because we are able to eliminate the large shipping costs that are associated with online orders.  
We just want to thank everyone for their support throughout our journey! We couldn't have done it without your love and support!