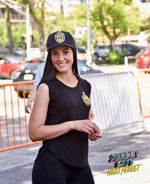 Image by Jersey City Night Market
Hey Sauce Heads,
Last weekend we had the privilege of being a part of the Jersey City Night Market. The event was on 6/4/22 and it was without a doubt, one of the most fun events we've ever participated in. The Jersey City Night Market was an open-air style event celebrating Jersey City's rich culture and commerce. They had everything from food, drinks, music and yes, you guessed it...Sauce Bae! The event was a huge success, with thousands of people stopping by for some Jersey City fun. The DJ kept the crowd alive and we were having a blast ourselves. 
We want to personally thank each and every person who stopped by our booth to give Sauce Bae Hot Sauce a try. You all had such great feedback and even bought a bottle or two. We appreciate your support as it helps us grow to keep bringing you great products. Huge shout out to the Midnight Market team for putting together such an amazing evening for everyone. Without their help, none of this would have been possible. 
We'll see you all again soon!
- Team Sauce Bae
Images by Jersey City Night Market