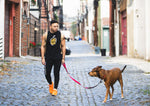 My name is Kevin Carbone, I'm 30, and I am the creator of Sauce Bae hot sauce.
Sauce Bae is a pineapple habanero hot sauce that's made with turmeric, an anti-inflammatory spice. The sauce is also very low in sodium with only 20 mg per serving. To put that in perspective, some popular store brands have close to 200 mg of sodium for the same serving size. To top it off, the sauce is as natural as it gets – made with real ingredients only.
Sauce Bae has come a long way since 2018, when I created the original recipe in my parents' kitchen before upgrading to a small commercial kitchen in Spring Lake NJ. One year later, I began using a commercial manufacturer which allowed me to scale production, and redirect my energy towards growing the brand further.
In early 2019, Sauce Bae was fortunate enough to land a spot on season 9 of the multi-million viewer show called "Hot Ones", where major celebrities are interviewed over a platter of increasingly spicy chicken wings. Fast forward to today, Sauce Bae can be found in over 350 retail locations, including Cost Plus World Market, Nugget Markets, and select GNC locations in the tri-state area. 
I'm frequently asked what inspired me to go and create a hot sauce brand in such a competitive and oversaturated market.
My inspiration for the sauce blossomed out of my life's biggest obstacle. When I was 21, I was diagnosed with an autoimmune disease called Ulcerative Colitis and without a doubt, that diagnosis was the most life-altering thing to ever happen to me. I became so sick at one point that I hardly left my room for a couple of months, and at the age of 21, I wondered if this was what the rest of my life would look like.
Determined to gain back control of my life, I set out on a journey towards better health. In hopes that I could restore my health through good nutrition, I explored the impact that diet had on my disease through trial and error. While on this journey, I came to a couple of realizations that allowed me to take back control of my health, which then led me to create Sauce Bae.
I fell in love with anti-inflammatory foods, like turmeric. Ulcerative Colitis, like most autoimmune diseases, causes inflammation in the body. Incorporating anti-inflammatory foods into our diet is a natural way to combat unwanted inflammation.
I also became a strong advocate for eating real, whole foods in their natural forms. Eating this way was critical for restoring my health, and it's how I developed a passion for cooking.
The shocking thing is that it was nearly impossible to find packaged food items that didn't have any fake ingredients. Too often, we fall for buzzwords without checking an item's ingredients to find out the truth. Plenty of items are marketed as "all-natural" even though their ingredient list suggests otherwise.
I realized the hot sauce category presented the perfect opportunity. Most hot sauces on the market were loaded with sodium, had added sugars, and contained either artificial preservatives or fake thickeners like Xanthan Gum. I was determined to change that. I set out to create the healthiest option on the market, without sacrificing any flavor.
I taught myself how to make hot sauce, and for four months straight, I made hot sauce every single day until I had my "Aha!" moment. I then taught myself how to design, taught myself photography, and built my own website. In today's era, you can teach yourself anything if you're persistent and patient enough.
From the start, my dream was to see my creation on the shelves of every major grocery store. Now that Sauce Bae is available through UNFI, a major wholesaler, that dream is not too far out of reach. 
At one point in time, I would have said my autoimmune disease was the worst thing that had ever happened to me, but looking back, it changed my life in positive ways that I would have never imagined. Having this disease has single-handedly prepared me for entrepreneurship because when you spend years dealing with the daily stress and uncertainties that a lifelong disease brings, you become a master at managing stress and dealing with surprises, simply because you kind of have to.
If it wasn't for my autoimmune disease, Sauce Bae wouldn't exist.
No matter how bad your struggle gets, you have to stay optimistic because there is a silver lining in every struggle, sometimes it finds you, but often times you'll have to either find it or create it yourself. This is why being optimistic is key, because otherwise you'll miss that silver lining if you're not in the right mindset. I created my silver lining, and that's Sauce Bae.